(I realized that not all readers may have access to professional recordings to enjoy the Christmas Offerings listenings. I found some suitable excerpts off YouTube and added them to the last three to give you an idea of some of the beautiful sounds of Christmas.)
Czech Christmas Mass "Hail Master!"
1796
Jakub Jan Ryba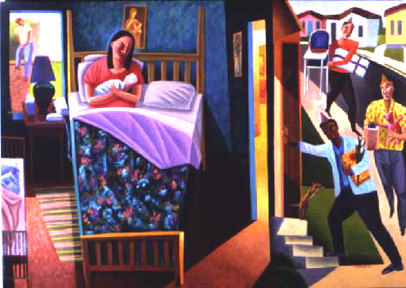 Nativity, 1995, James B. Janknegt
Jakub Jan Ryba (1765-1815) was a Czech composer who spent his whole life as a teacher, often to what we would call high schoolers. In the midst of a heavy teaching load, constant moving, and nine children he composed pieces with clear Czech folk associations. His pieces are characterized by simplicity and something I can only call gaiety. The perky organ and string obligato which opens the Kyrie of this Mass continues in a jaunty, merry exchange between shepherds debating over the possible causes of the celestial wonders they are seeing. Ryba wrote his own libretto in Czech, the only time he was to do so. I'll give a description of the rest of the movements based on Wikipedia:
Kyrie – A young shepherd wakes his master with the song "Hej, mistře, vstaň bystře!" ("Hey Master, get up quickly!").
Gloria – The angels announce Christ's birth and sing a celebratory hymn.
Graduale – Shepherds assemble the people from all the regions and lands: "K Betlému teď půjdeme, Boha slavit budeme." ("We're going to Bethlehem, to celebrate the God.")
Credo – The shepherds prepare for the pilgrimage to Bethlehem.
Offertorium – People offer their musical gifts to baby Jesus at the manger.
Sanctus – Angels sing a short hymn.
Benedictus – A solo soprano celebrates Jesus as the newborn Redeemer.
Agnus – The visitors leave the manger and pray for Christ's protection over all people.
Communio – The final part ends with monumental choral hymn celebrating the Holy Trinity.
The texts makes the composition more like a lively Christmas cantata. The music bursts with innocence and liveliness, a bit of opera buffa poking through sometimes, other times an Orphic pastoral atmosphere complete with bagpipe drone effect in the organ.
James B. Janknegt was born in Austin, TX in 1953. Almost two hundred years after Ryba's Czech Mass I feel as though this artist has captured some of the impromptu, joyous character of "Hail Master!" The three kings are bringing presents every new mother would love while Joseph does some work in the back. It looks like a desert Christmas like those I experienced in California. Oh joy!


All the best to everyone on this Christmas Eve.